Maria Version 0.0.2
-------- Forwarded message --------
Subject: matter- Maria 2.0. - Please use as CC
Date: Mon, 20 May 2019 15:23:56 +0200
From: Ursula Sabisch <nets_empress@gmx.net>
At: luecke-o@bistum-muenster.de …………….
info@bistum-regensburg.de, pforte@erzbistum-hamburg.de
_______________________________
"Several thousand women nationwide took part in the church dispute "Maria 2.0".
This was the result of a survey by the German Press Agency in the German dioceses.
The focus of the protests in the week from May 11th to 18th is on North Rhine-Westphalia and Baden-Württemberg.
While women went on strike in 30 places in the diocese of Muenster alone, only isolated actions were known in other dioceses.
The initiators do not have exact figures because the strike week is not organized centrally. There was also support from Austria, Switzerland and the USA.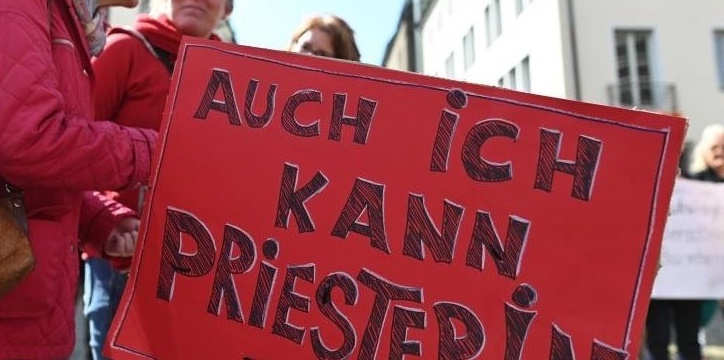 Extract from the Internet: Maria 2.0 is not a group of a specific church, but a free initiative of women."
______________________________
Ursula Sabisch, Am Aehrenfeld 15, 23564 Luebeck, Germany
To the
Episcopal Ordinariate Regensburg
Niedermünstergasse 1
93047 Regensburg
CO /
Archbishop's General Vicariate Hamburg
Am Mariendom 4, 20099 Hamburg
Post Office Box
Archdiocese of Hamburg
Germany, Luebeck, May 20, 2019
Maria Version 0.0.2 "I can Empress"
Free English translation on 26 April 2021. Please let that German-language document be translated in many languages and be handed over to the right places. The German language document you may find here!
Dear Gentlemen, Dear Clergy, Dear Readers and Dear Roman Catholic Women,
As reported by the press and as is clear from the photo above, the Roman Catholic women now want to try their hand at the altar!
The protesting Catholic women want to power and they want to abolish celibacy, which was also justified by the abuse cases of the churches.
On the one hand one notices clearly from the reaction of the women that the man is missing in the house, on the other hand one also wonders why these women did not stand up against the abortion clause in the same way and protested, as now in this case, if they really wanted to serve our Lord God!
These women want and rightly have to make a difference in the world because they brought children, grandchildren or great-grandchildren into the world and they should want to make this world safer, more future-oriented and more livable, but so far there was one thing these women hadn`t reckon with and without made up my person.
There is already a Christian who has the say as a Roman Catholic woman, because only those who also have the essential knowledge and the corresponding monumental connections can and must indicate the direction by doing something meaningful for the future of our ancestors and descendants by all people will be achieved, since those who are "first-hand appointed to the highest place for a person" and have been called, whereby it can no longer go alone without the "servant of God"!
Note: A woman has an extremely high function in the church that no man can take on, since it is a matter of natural laws, in that she ensures that, as a housewife and mother, she brings up her children and the world accordingly "controls" or respectively influenced in this way, so that the offspring of the true clergy can be assured for their descendants!
Note: A man as a clergyman has an extremely high function that no woman can take on, since it is always and fundamentally a natural law that is non-negotiable and interchangeable!
______________________
http://www.general-anzeiger-bonn.de/news/politik/deutschland/Kirchenstreik-Maria-2.0-als-letzt-Weckruf-article4108604.html
The Anger of the Catholic Women:
Church Strike: "Maria 2.0" as the last Wake-up Call.
______________________
And now: What will happen will happen.
The Anger and the Force of the Empress:
Use the School Strike: "Maria 0.0.2" as the last Call to all Christians and Peoples of the Earth!
First, learn to recognize the most important things, as you, as women and Catholics, will also ensure that the mothers of the Third and Fourth World do not have to hold their children dying in arms just because, for example, the current dignitaries of the two great Christian churches are in agreement by putting the responsibility on the big bell bags, such as Misereor, CARITAS and Bread for the World, and investing the wealth of the rich churches accumulated over decades in companies or elsewhere, just not where it belongs!
A woman and mother must really complain about that matter and not "I too can be a priestess"!
Then you want to set up church or social advice centers for young women, for young girls and expectant mothers and you want to volunteer there, where you would probably send your granddaughters, but what through a single abortion with the young woman and probably also the begetter happens and whose families will also be involved, this is a minor matter or an uncertain matter for you, but no one is allowed to deal with or play with!
Life itself is tied to this Natural Law, and a Catholic knows that very well!
"With so much Catholicism there, your uterus flies out!"
I can still do differently, because I "can Empress"!
As a person, I think very highly of freedom of expression, but even more of the right education of a person, in which obedience is provided and the school desk will first be necessary for you and others in the urgent process.
At the same time, as women and mothers, you should ensure that a major subject in schools, which runs almost everywhere on a voluntary basis as a minor or elective subject, is reintroduced into the schools and has to be firmly integrated into every higher school qualification.
The main subject is religion and is at the same time a support for your work in education and participation in the church. The teaching of God thus has a very high priority in a person's life, whereby an active Catholic should have long since recognized that we all as humanity are already moving in the Revelation of John.
Come to quickly, before it is too late for your children and grandchildren, by thoroughly working through the various homepages of my person, which are compiled from valuable documents, because the contents that form a guide in the matter and commission of the Lord, to be implemented with your possibilities and your knowledge into reality and by secret routes, that means without using the *** TV!
The formation of the framework conditions of the "One Church" is indeed a woman's business and that means that the worldwide "amusement facility" thus "the world" should be finally cleaned up!
With best regards
Ursula (Maria) Sabisch
*** Without actively human-controlled TV, but passively by supporting the Monumental-Area worldwide!
www.ursulasabisch.netsempress.net
Catholics who like to travel, should also know that one way or another the travel money will be collected again, because everything has its price, as the environment has been bearing the very high costs for too long!
https://www.tagesspiegel.de/politik/maria-2-0-sucht-reformen-katholische-frauen-starten-einwoechigen-kirchenstreik/24330840.html
HP: For reasons of content, this document must be published on one of the homepages mentioned.